AUSTRALIAN MADE FREESTANDING BBQS
As Sydney's only remaining BBQ manufacturer, the team at Lifestyle BBQs have decades of experience that enables us to build a quality BBQ that looks beautiful, works perfectly and lasts for decades. With almost 50 years of experience, we design and manufacture premium BBQs that will outperform and outlast the imported competition.
Our free standing mobile BBQs are designed for you, so you can choose the options that suit you best. That includes a wide selection of BBQ plate and grill options to suit your cooking style. You can select a roasting hood with or without the glass viewing window and opt for a side burner or simple plain side serveries. A BBQ that's suits your exact needs is what you'd expect from a local manufacturer and that's what you'll get from Lifestyle BBQs.
What sets our BBQs apart is that they are made here in Australia by people who actually cook on them at home themselves and know what it takes to manufacture a great BBQ. Easy access to spare parts is also key. Try calling one of the big multi national retailers and asking for parts for a BBQ you purchased 20 years ago. I think you can imagine the response you would get. When you read through our Google reviews you'll find that's exactly what existing customers do when they need parts for our BBQs. They simply call us and find that No.1 we know what they require and we have the parts available to keep there BBQ going for another 20 years!
At Lifestyle BBQs, our BBQs are more than just everyday cooking equipment. Get a FREE quote today and join countless satisfied customers across Sydney and all around the country who love their Lifestyle BBQs.
Contact us now!
Stainless Steel Freestanding BBQs
Experience the unique features of our premium freestanding barbeques:
Enhance your outdoor cooking and build an all-in-one solution with an optional side burner, perfect for sauces, marinades, steaming, sautéing and stir-frying.
Choose Lifestyle BBQs for the ultimate Australian grilling experience!
Why choose a Lifestyle International Barbeque?
Click the + buttons below to view the features.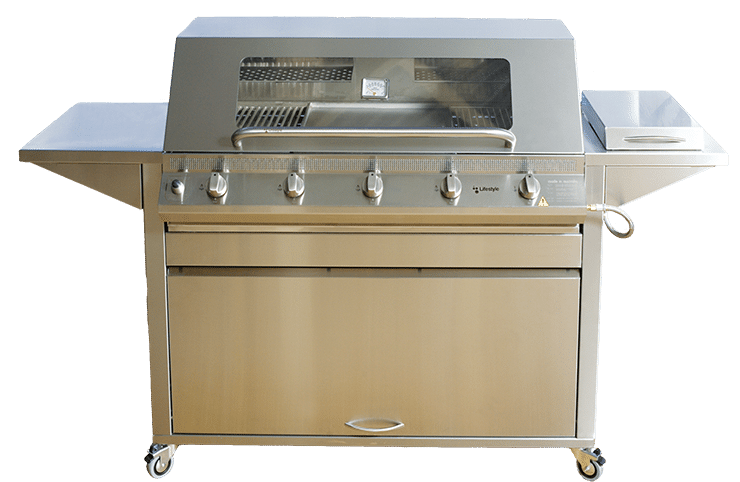 OUR FREESTANDING BBQS ARE
Australian Designed
& Manufactured
For over four decades, we've designed and produced top-notch Australian-made freestanding barbeques, proudly crafted in Sydney. Experience superior heat retention, exceptional corrosion resistance and unmatched performance.
Made With Premium
304 Grade Stainless Steel
Our choice of 304 stainless steel guarantees a long-lasting lifespan, even in the harshest coastal conditions. Exceptional corrosion resistance and heat tolerance ensures your freestanding BBQ will stand the test of time.
Electropolished plates make grilling a breeze from cooking to cleanup, creating a protective, passive layer that enhances corrosion resistance and durability. The microscopically smooth surface ensures effortless cleaning.
FAQS ABOUT OUR FREESTANDING BBQ GRILLS
Simply click the "GET A FREE QUOTE" button on this page, complete our user-friendly form, and we'll be in touch with an obligation-free quote ASAP.
On the form, we'll require information about your desired BBQ frame size and fuel supply. Once we have all the necessary details, we'll start the payment process and begin crafting your BBQ right here in Sydney.
Get a free quote now! Your journey to owning the perfect BBQ is just a few clicks away.
Yes! Take a look at our spare parts catalogue and find the right equipment for your new freestanding BBQ.
Our BBQs come in various sizes, from two-burners to five-burners. You also have the option to add a side burner to cook sauces or sides.
Customisation is the key when it comes to crafting the perfect BBQ experience. Simply choose your preferred plate and grill combination and leave the rest to us. We'll ensure your vision becomes a reality, creating a stylish freestanding BBQ to suit your outdoor cooking setup.
CONTACT US FOR ALL YOUR OUTDOOR COOKING NEEDS. WE SERVICE SYDNEY, NEWCASTLE AND THE CENTRAL COAST.