AUSTRALIAN MADE BUILT-IN BBQS
When it comes to transforming your outdoor entertainment area into a culinary haven, look no further than Lifestyle BBQs. Whether you're building a brand-new outdoor kitchen or want to integrate a built-in BBQ into your current setup, Lifestyle BBQs stands out as the ultimate choice for premium stainless steel BBQs.
With an impressive legacy spanning almost 50 years, Lifestyle BBQs utilises premium 304-grade stainless steel in each built-in gas BBQ, ensuring exceptional performance and an enduring aesthetic that withstands the test of time.
Investing in a Lifestyle BBQs product isn't just a simple purchase, either; it's a pledge to quality backed by an incredible 25-year warranty. This warranty speaks volumes about the longevity and reliability of our products.
Contact us to create a custom built-in BBQ in Sydney today!
Note: For a hassle-free installation process that ensures seamless integration into your outdoor kitchen, we recommend shipping your new built-in gas BBQ directly to your fabricator before the stone benchtops are cut. This meticulous approach ensures that every component fits flawlessly and exudes visual appeal.
Stainless Steel Built-In BBQs
Built-in BBQs are ideal for homeowners seeking space optimisation, streamlined aesthetics, and enhanced functionality. These BBQs blend seamlessly into outdoor kitchen designs, freeing up valuable space for outdoor entertaining with friends and family!
The benefits of a Lifestyle BBQ don't end there:
Got questions about customisation, ordering and delivery? Contact us at (02) 9773 6245 or via email at sales@lifestylebbqs.com, where our experts can guide you through the process, provide insights, and help you make the best choice for your outdoor culinary haven.
Why choose a Lifestyle International Barbeque?
Click the + buttons below to view the features.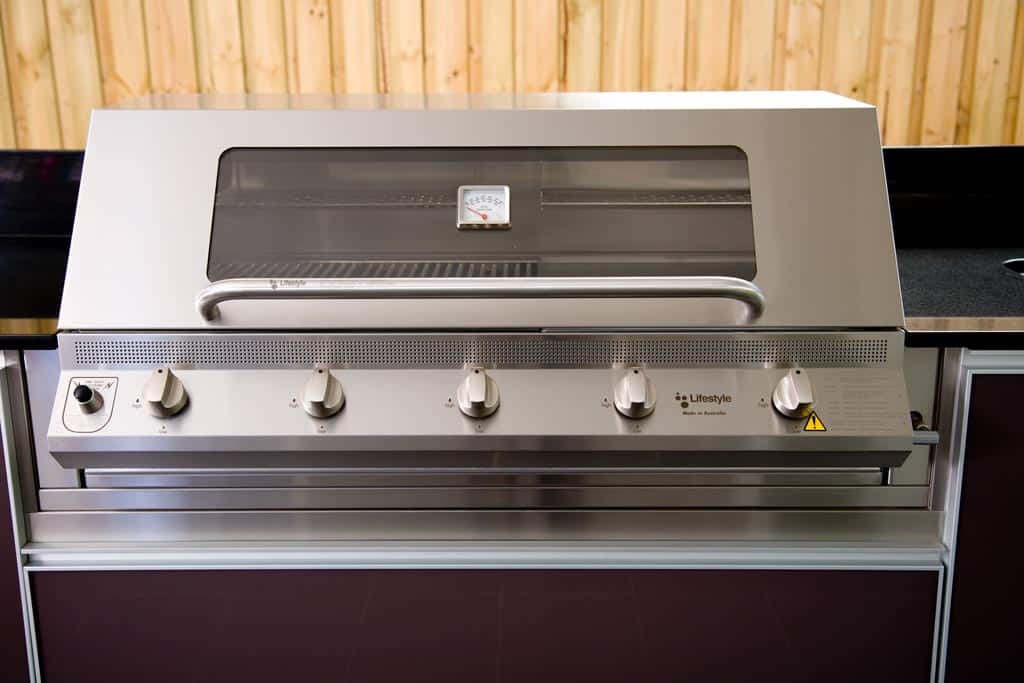 OUR BUILT-IN GAS BBQS ARE
Australian Designed
& Manufactured
For almost 50 years, Lifestyle BBQs has designed and manufactured exceptional built-in BBQs in Sydney. Marrying impeccable heat retention, corrosion resistance, and excellent performance, our stainless steel BBQs have become an iconic fixture in Australian outdoor entertaining areas.
Made With Premium
304 Grade Stainless Steel
Our commitment to excellence is embodied in using 304 stainless steel — a champion of corrosion resistance and heat endurance — safeguarding the robustness and timeless allure of your BBQ through the years.
Intuitive, easy to use & low- maintenance
Our outdoor built-in BBQs feature electropolished plates for unwavering durability. Rendered microscopically smooth, these plates transcend functionality, making cleaning a breeze, even after the messiest BBQ.
Yes, we have a range of built in kits to fit various dimensions. This adaptability ensures your BBQ fits into your outdoor kitchen design perfectly, whether it's an existing structure or brand new joinery.
Yes, you can add side burners to your design — no special brackets are required. We can also supply fridges, sink packages and wood fired pizza ovens.
Yes you can and we can also offer advice to make sure it's done correctly. As the leading built-in BBQ supplier in Sydney, we can also offer professional installation services to ensure a safe and proper installation.
CONTACT US FOR BUILT-IN BBQS, AUSTRALIA WIDE.